Industrial Ceramic Wear Products
From coast to coast, Moffatt Supply is Canada's largest distributor of industrial ceramic wear liner products.
Industrial Ceramic Wear Solutions
Industrial ceramic wear liner products from Moffatt provide exceptional resistance to sliding abrasion. Industrial ceramic wear products are regularly used in abrasive bulk materials handling installations, mineral processing plants, pulverized fuel pipe lines, or any applications where steel or other materials are not sufficient in resisting the wear caused by the materials flowing over them. By installing your industrial ceramic wear liners, the overall lifespan of your steel piping is prolonged, saving not only money and but also increasing the time between pipe replacements resulting in much higher productivity and far less downtime. Ceramic wear products from Moffatt are less than half the weight of steel, reducing the weight of lined components, reducing the risk of injuries and material damage during handling.
Moffatt Supply has a long-standing reputation of sourcing only the best and highest quality ceramic tiles from various world-wide manufacturers. Specifically, our Alumina ceramic wear products with Al2O3 content of 90% and 92% are typically used. In addition to the AI203, Moffatt offers other grades of Alumina are available as required. With our experienced tile installers we can also ceramically line any shape imaginable. Should your tiling requirements also include the consistent repeating of shapes, we use also utilize pre-engineered tiles. These are tiles perfectly fit standard shapes, like cones and elbows.
Regardless of your application, Moffatt utilizes multiple methods of bonding and holding industrial ceramic wear tiles into place. Tiles can be mounted using both adhesive or mechanical methods. When tiles are exposed to high-temperatures environments, silicone adhesives are used. For slurry-based applications used in mining or mineral processing plants, epoxy-based adhesives are typically used. Dependant on your application, if adhesive application isn't the best solution, there are also mechanical means to install tiles. Tiles are resilient and durable enough to be bolted down or even welded to steel ensuring maximum abrasive resistance.
Industrial Ceramic Tile Wear Liner Features and Benefits
Alumina Ceramics have a hardness of 9 on the Mohs Hardness Scale. Diamonds have a hardness of 10. Alumina powder can be molded into shapes in its unfired state, and this makes it perfect for the manufacturing of tiles and blocks. Alumina Ceramics are ideal for the protection of steel in high wear areas of your processing plant, materials handling chutes, dust extraction system or any other applications that are subject to excessive wear.
Ceramic tiles are readily available in various thicknesses between 1/8" - 2". 1/4", 1/2" and 1" thicknesses are by far the most frequently utilized and readily available to purchase by the box or pallet. The most common tile size is a 4" x 6" tile.
These types of tiles can typically be supplied as weldable tiles. Weldable tile is used in high-temperature applications or in applications where the steel backing is flexible.
Moffatt Supply & Specialties also provide 1/2" and 1" thick pipe tiles, meant to tile pipelines and pipe elbows to protect them against abrasive slurries.
Another popular product is the hextile sheets. These are small hexagonal tiles on a mesh backing, used mainly to line irregular shapes or for patches. Standard thicknesses are 1/8", 1/4" and 1/2" and the sheets are 6" x 6" square.
For longer pipelines, where the cost of Alumina Ceramics and Silicon Carbide will be cost prohibitive, basalt liners can be considered. It is frequently utilized in tailings pipelines and process piping in mineral processing plants.
All the above are offered in Alumina Ceramics, and can also be provided in Silicon Carbide and various other ceramics commercially available.
Industries that use Ceramic Wear Products
Agricultural Industrial Use
Mining
Bulk Materials Handling
Forestry
Industrial Sectors that use Ceramic Tile Wear Liners Products
Ship Loading
Slurry Pipe Lines
Sand and Gravel
Minerals Processing Plants
Cement and Lime production
Dust Extraction and Handling
Grain Handling
Conveyors and Transfer Points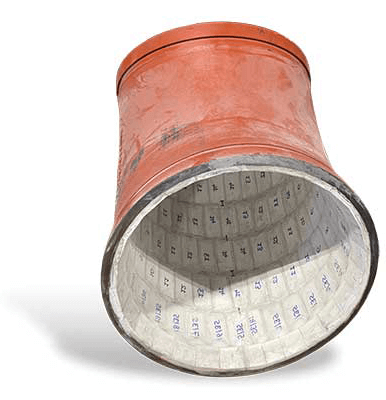 Industrial Ceramic Tile Wear Liners Product Facts
Alumina Ceramics is the most frequently used in the industry. 90% Al2O3 and 92% Al2O3 are the most popular grades of Alumina ceramics used in the market.
Silicone Carbide is also commonly used and Nitride Bonded SiC, Reaction Bonded SiC and Sintered SiC are grades of Silicone Carbide available. The application will determine which grade of SiC is usually recommended.
Silicon Carbide has a higher resistance to wear than Alumina, but is more expensive. Therefore, it is only suitable for very abrasive applications.
Interested in learning
more about industrial ceramic products?
Please fill out the form and one of our ceramic solutions experts will contact you shortly!
Industrial Ceramic Wear Product Questions and Answers
Moffatt's industrial ceramics offer excellent wear resistance caused by coarse materials flowing over them. Below are answers to common questions we get regarding our industrial ceramic wear products:
What are industrial ceramics?
Industrial ceramics are broadly defined as inorganic, non-metallic materials that exhibit such useful properties as high strength and hardness, high melting temperatures, chemical inertness, and low thermal and electrical conductivity, but that also display brittleness and sensitivity to flaws.
What is advanced ceramics?
"Advanced" ceramics, like silicon carbide and zirconium oxide are the materials that things like spaceships are constructed of, and they're able to withstand the super-hot temperatures generated upon re-entering the earth's atmosphere.
How do you attach the ceramics to the steel?
There are a range of adhesives designed for attaching ceramics to the steel backing material. The most popular adhesives are two part epoxies, that can take anything from a few minutes up to 48 hours to cure completely. Depending on the application, the working temperature and the rigidity of the steel backing, other materials or fastening methods may also be used. Silicones can handle higher temperatures than most epoxies, and is also more flexible. Tiles can certainly be bolted to the steel backing and could be "welded" to steel backing.
What sizes and shapes of alumina ceramics does Moffatt Supply keep in inventory?
Amongst the most common tile thicknesses used in the industry for wear protection is ¼", ½" and 1". The standard tile shape is rectangular and are 4" wide by 6" long. An additional popular product is ¼" or ½" thick hexagonal tiles. These are supplied on a 6" by 6" mesh backing, and is also used to do repairs to ceramic installations or for use in irregularly shaped applications.
What kinds of ceramics does Moffatt Supply specialise in?
We mainly provide and supply Alumina Ceramics. Alumina Ceramics is made up mainly of alumina oxide and grades of 90% and 92% Al2O3 are the most popular grades. We also supply assorted grades of silicon carbide. Silicon carbide is more adaptable than alumina ceramics and can easily be formed into almost any shape imaginable. However, it is more expensive than alumina ceramics and is used for specialised applications.
Why would you use alumina ceramics in high wear applications?
The key reason for using any ceramics is to protect the metal from being worn away by the material that comes in contact with the steel. Ceramics in general has an impressive resistance to wear in sliding abrasion applications. 92% Al2O3 has a hardness of 9 on the Mohs Hardness scale, as compared to diamonds that has a hardness of 10.
How is it possible to "weld" a ceramic brick to the steel backing?
If you wish to make a ceramic tile weldable, a compact conical hole is made in the centre of the tile. A conical steel insert is then inserted within the hole and this is welded to the backing steel. The weld is then holding the steel insert in place, which then supports the tile in place.
What is the smallest and largest tile that can be made from Alumina Ceramics?
Although it's possible to make different shapes of alumina ceramics, the most popular products are tiles and bricks. Tiles can be as thin as 1/32", but 2" thick bricks, 4 - 1/2" wide and 9" long is about the maximum dimensions that can be made from alumina ceramics.
Are all ceramics the same?
There are a large array of ceramics available. It all depends upon the application. Some ceramics can be used for household goods, like plates, cups and oven dishes, some are utilized in the electrical industry as isolators for high voltage power lines, as ballistic protection in armoured vehicles and bullet proof vests and for protection against wear in materials handling, pipelines and process equipment. Ceramics can also be used as heat insulators in furnaces and kilns. Due to its resistance to a variety of chemicals and high temperature, ceramics is also regularly used in laboratories in a variety of applications.
"Moffatt Supply provides excellent service, high-quality ceramic lined products at competitive pricing."
- Paul S., Molson Breweries -
Need Help on Industrial Ceramic Products?
Subscribe today for the latest news and announcements